We welcome visitors to the Museum on Tuesdays and Thursdays from 10 AM to 1 PM and on Saturdays from 11 AM to 2 PM, or by appointment.
Admission to the Museum is free, but your donations are appreciated.
We are located just off of Route 40 and West Bel Air Avenue at 18 Howard Street, Aberdeen MD 21001. A municipal parking lot (free) is available right next to the Museum on Walnut Alley.
Plan to spend at least half an hour exploring the exhibits. Our exhibitions showcase different aspects of Aberdeen history, including the canning industry, railroads, local businesses, sports, and Aberdeen Proving Ground. Stay tuned for new exhibitions, coming soon!
Inclement Weather Policy: The Museum will be closed when Harford County Public Schools (HCPS) closes schools on weekdays or cancels activities on weekends due to inclement weather. The Museum will still be open in the event of an HCPS delayed opening.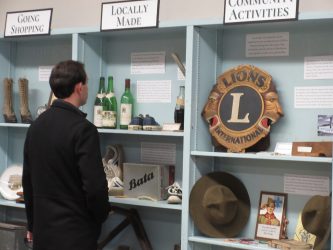 If you are interested in conducting research at the Museum, please contact us prior to your visit. Click here to complete this form with your research request. We will be in touch to schedule your visit.
If you need copies made during your visit, please refer to the charges below:
Black and white copies: 10 cents per 8.5″x11 and 11″x14″ copy. 20 cents per 11″x17″ copy.
Color copies: 20 cents per 8.5″x11″ or 11″x14″ copy. 30 cents per 11″x17″ copy.
Private Tours and School Groups
We offer a variety of program options for school groups and tour groups. Due to capacity restrictions, we cannot host groups larger than 20 people. Click here to send us a message for more information and to schedule your tour.